History
I first got the idea to draw profiles from a 19th century engraving of a traction engine that had been hand coloured. It seemed to be the perfect style of drawing that could be drawn on a computer with the available program on my Applemac at the time, without actually looking too 'computery'. I did have to abandon the flat colours for a more photographic finish to clarify the curves of various body panels.
Over a period of time the technique evolved into a more realistic and detailed style.
One of the advantages of drawing on a computer apart from the obvious benefit of only having to draw a particular component once is one can revisit drawings done (sometimes many years ago) refine detail and apply learned improvements in technique without having to start again.
The profile-style I do is reminiscent of the car profile illustrations done in the 1960's. Though being produced then with 'old school' techniques (gauche, water colour, etc) were looser and more forgiving when it comes to details such as suspension and wire wheels.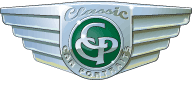 Ordering Please only ask for a quote for cars already drawn and always include photographs showing the particular variant the car is. I cannot quote for cars that have not been drawn as the original base drawing takes over 40 hours I'm already about 2 years behind trying to complete a wish-list of future car drawings. By all means inquire if your car is on that wish-list or already started but it may be some while in the future before it's available for portraiture
'Generic' Car Prints
All of the images on the site are examples only and not for sale as shown as most are derived from specific owner's cars and may not be strictly accurate from a purist's point of view (as left the factory). However, I will be producing some that are for sale as pairs for roughly the same price as a single portrait. These may be racing cars or other iconic significant cars of interest. They will however be in a slightly different style to the regular car portrait. More like the sketch unfinished technical drawing style shown as a back image on some the main category pages.
All images are copyright Graeme Jenner .